BARLEY VARIETIES DISCRIMINATION USING MALDI-TOF MASS SPECTROMETRY
Keywords:
Barley, B hordeins, discrimination, MALDI-TOF MS
Abstract
Barley is a widely used foodstuff and it is the most important component in malting and brewing. Purity of barley grains in malting and brewing is important in relation to technological processing. Therefore, an effective analysis of barley purity has high priority. The aim of this study was the discrimination of barley varieties using Matrix Assisted Laser Desorption/Ionization Time-of-flight Mass Spectrometry (MALDI-TOF MS). Eight barley varieties, Kangoo, Laudis, Malz, Marthe, Odyssey, Overture, Sebastian and Wintmalt were investigated. Several protein extraction methods, barley samples preparation for MALDI-TOF MS, reproducibility, influence of time on the hordein quality spectrum and groups of hordeins mass spectrum suitable for barley discrimination were tested. The results showed that removal of albumins and globulins does not affect the resulting hordein spectrum, but time decreases the hordein spectrum intensity. Preparation of barley samples has the highest priority. The most important factor is the selection of the right matrix and its use. B hordeins should be used for the discrimination of Barley varieties. Local Barley database based on B hordeins can be created but the protein spectra must be obtained with the highest purity and the highest reproducibility. The right set up of MALDI Biotyper software can lead to local Barley database establishment. Also, Barley's B hordeins were used for the creation of a relatedness dendrogram. These obtained results showed that MALDI-TOF MS is a very usefull and powefull method for Barley varieties discrimination with a high reproducibility.
Downloads
Download data is not yet available.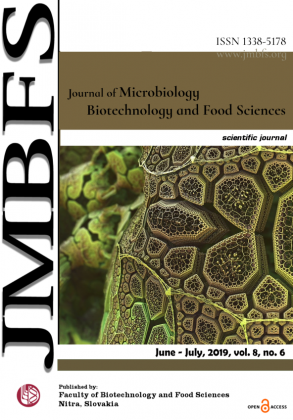 Downloads
How to Cite
Hleba, L., Drab, S., Cisarova, M., & Cubon, J. (2019). BARLEY VARIETIES DISCRIMINATION USING MALDI-TOF MASS SPECTROMETRY. Journal of Microbiology, Biotechnology and Food Sciences, 8(6), 1347–1351. https://doi.org/10.15414/jmbfs.2019.8.6.1347-1351
License
Copyright (c) 2019 Lukas Hleba, Stefan Drab, Miroslava Cisarova, Juraj Cubon
This work is licensed under a Creative Commons Attribution 4.0 International License.
All papers published in the Journal of Microbiology, Biotechnology and Food Sciences  are published under a CC-BY licence (CC-BY 4.0). Published materials can be shared (copy and redistribute the material in any medium or format) and adapted (remix, transform, and build upon the material for any purpose, even commercially) with specifying the author(s).