ASSESSMENT OF CAMEL MILK YOGURT AS A COGENT APPROACH ON STREPTOZOTOCIN (STZ) INDUCED DIABETES MELLITUS IN SPRAGUE - DAWLEY RATS
Keywords:
Diabetes, camel milk, Insulin increment, improved clinical symptoms, minimal determental effects
Abstract
According to Global report of World Health Organization (WHO) on diabetes, a predictable frequency of diabetes in the grown-up populace has nearly elevated 2-fold since 1980 from 4.7% to 8.5%. Altogether, mainstream of individuals is suffering from Type 1 diabetes mellitus of all diabetes cases which is a serious metabolic disorder and frightening state of cases booming annually. Camel milk, fresh/ fermented has the properties to be acknowledging for its potential effect for the cure of diabetes mellitus type 1. The higher concentration of insulin/insulin mimics particles in camel milk, like half cysteine, small sized immunoglobulins and their optimistic impact on beta cells and resistance to coagulation in acidic environment of stomach contributes to hypoglycemic effect in type 1 diabetes. The persistence of this study was the evaluation of camel milk yogurt on experimental Sprague-Dawley rats for type 1 diabetes. Two types of studies were conducted with four groups depending upon the diet. The analysis of serum glucose, insulin levels, liver and kidney functioning tests, and hematological analysis were performed to access the therapeutic potential of camel milk yogurt during efficacy trials. Serum glucose and insulin results showed that camel milk yogurt exhibited 3.69 % reduction of serum glucose level in study-I (fed on cow milk yogurt) whereas, 13.88% reduction was reported in study-II (fed on camel milk yogurt). Insulin concentration was increased 1.84 % in study-I whereas, 15.22 % was increased in study-II. Categorically, insulin percentage increment enlightened that induction of camel milk yogurt to subjects revealed better results in comparison to cow milk yogurt. The protective perspectives of camel milk yogurt supplementation to rats did not impart any deleterious effect on biochemical markers of the rats. Overall research showed that camel milk yogurt administration improved the clinical symptoms of diabatic rats along with minimal determental effects on health stratum of rats group.
Downloads
Download data is not yet available.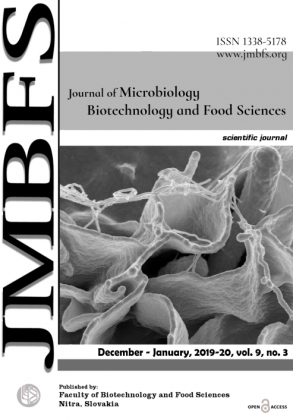 Downloads
How to Cite
Khaliq, A., Ali Shariati, M., Shah, F.- ul-H., Ahsan, S., Pasha, I., Liaqat, A., Bilal Irshad, M., Farhan Jahangir Chughtai, M., Amir Gilani, S., Imran, M., Nadeem, M., Zahoor, T., & Yessimbekov, Z. (2019). ASSESSMENT OF CAMEL MILK YOGURT AS A COGENT APPROACH ON STREPTOZOTOCIN (STZ) INDUCED DIABETES MELLITUS IN SPRAGUE - DAWLEY RATS. Journal of Microbiology, Biotechnology and Food Sciences, 9(3), 648–652. https://doi.org/10.15414/jmbfs.2019/20.9.3.648-652
License
Copyright (c) 2019 Adnan Khaliq, Tahir Zahoor, Muhammad Nadeem, Muhammad Imran, Syed Amir Gilani, Muhammad Farhan Jahangir Chughtai, Muhammad Bilal Irshad, Atif Liaqat, Imran Pasha, Samreen Ahsan, Faiz-ul-Hassan Shah, Mohammad Ali Shariati, Zhanibek Yessimbekov
This work is licensed under a Creative Commons Attribution 4.0 International License.
All papers published in the Journal of Microbiology, Biotechnology and Food Sciences  are published under a CC-BY licence (CC-BY 4.0). Published materials can be shared (copy and redistribute the material in any medium or format) and adapted (remix, transform, and build upon the material for any purpose, even commercially) with specifying the author(s).