EFFECT OF DIETARY RED GRAPE POMACE ON LIPID OXIDATION IN MEAT OF BROILER CHICKENS
Keywords:
chicken meat, grape pomace, lipid oxidation, malonaldehyde
Abstract
Grape pomace is a by-product of grape processing and represents a major waste issue. One of the possible methods of revalorization of this agriculture waste is to incorporate red grape pomace into the feed mixture of poultry e.g. broiler chickens. The rich content of polyphenols in red grape pomace is reported to have a positive protective effect against lipid oxidation in several types of meat and products. In our study, we incorporate red grape pomace into the diet of observed Ross 308 broiler chickens. Tested chickens were divided into 4 groups. One control group without any addition of pomace, and another three groups with the addition of 1, 2, and 3 %. After 42 days chickens were slaughtered and tested. To evaluate the process of lipid oxidation we used measurement of malonaldehyde (MDA) presented in samples of breast and thigh meat. MDA measurement was carried out on the 1st, 3rd, and 5th day of meat storage at 4 °C. However, our study did not prove any significant difference among the control group without red grape pomace and the other three experimental groups. We can see a slight decrease in MDA created during the storage process but not with statistically provable results. The repetition of the experiment with some adjustment is highly anticipated.
Downloads
Download data is not yet available.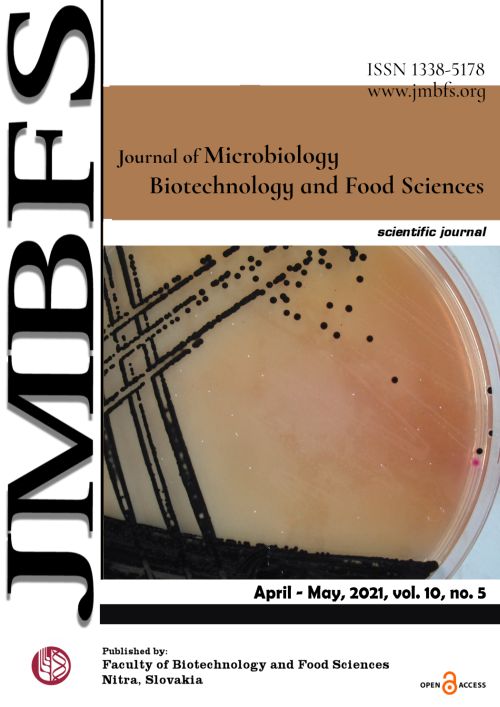 Downloads
How to Cite
Jurčaga, L., Bobko, M., Haščík, P. ., Bobková, A. ., Demianová, A. ., Belej, Ľubomír ., & Kročko, M. . (2021). EFFECT OF DIETARY RED GRAPE POMACE ON LIPID OXIDATION IN MEAT OF BROILER CHICKENS. Journal of Microbiology, Biotechnology and Food Sciences, 10(5), e3769. https://doi.org/10.15414/jmbfs.3769
License
Copyright (c) 2020 Journal of microbiology, biotechnology and food sciences
This work is licensed under a Creative Commons Attribution-NoDerivatives 4.0 International License.
Received 2020-09-29
Accepted 2020-11-09
Online Published 2021-04-01