NUTRITIONAL COMPOSITION, BIOLOGICAL ACTIVITY AND TECHNOLOGICAL PROPERTIES OF NEW SLOVAKIAN BLACK OAT VARIETIES
Keywords:
Avena sativa L., antioxidant activity, rheology, anthocyanins, mineral compounds
Abstract
Black and red cereal grains, rich in anthocyanins, have recently gained a lot of interest in the food industry due to health benefits. The aim of this study was to evaluate the nutritional composition (crude protein, starch, ash, fat, β-glucans), biological activity (antioxidant activity, total polyphenols, carotenoids and anthocyanins) and technological properties (farinograph, amylograph and extensograph) of new Slovakian black oat varieties Hucul and Norik. Technological properties were observed by incorporation of whole-grain oatmeal flour to standard wheat flour T-650 in amount 3, 6 and 9%. The grains of selected varieties were grinded and resulting whole-grain oatmeal flour was used for analyses. The crude protein content was in both varieties in amount ~ 11%; starch content ~ 44% and ash content in amount ~ 2.6%. The Norik variety showed a higher content of fat – 5.80%, β-glucans – 4.29%, and total carotenoids – 7.47 μg.g-1. In Hucul variety was detected a higher content of total polyphenols – 0.19 mg GAE.g-1(GAE – gallic acid equivalent) and anthocyanins – 22.00 μg.g-1. The antioxidant activity (DPPH method) was approximately at the same level in both evaluated varieties – 3 mg TEAC.g-1 (TEAC – Trolox equivalent antioxidant capacity). There were several differences in mineral composition between observed varieties. The Norik variety showed higher content [mg.100 g-1] of Fe – 5.94, K – 397.56, Na – 6.33 and P – 365.51, while in Hucul variety it was detected higher content of S – 142.89 and Zn – 2.05. Other mineral compounds were not significantly different. Amylograph device shown that with an increasing addition of black oat flour, the amylograph maximum fell down with the best value at 9% addition with compared to standard flour – 1593 AU. Farinograph values on the contrary, showed the good quality of standard flour but parameter water absorption was better with addition of oat flour due to non-starch polysaccharides presented in oat. Extensograph device showed that increasing addition of oat flour decreased resistance to extension. Colorant cereals generally can increase biodiversity in agriculture, and can be attractive raw materials for production foods with added value.
Downloads
Download data is not yet available.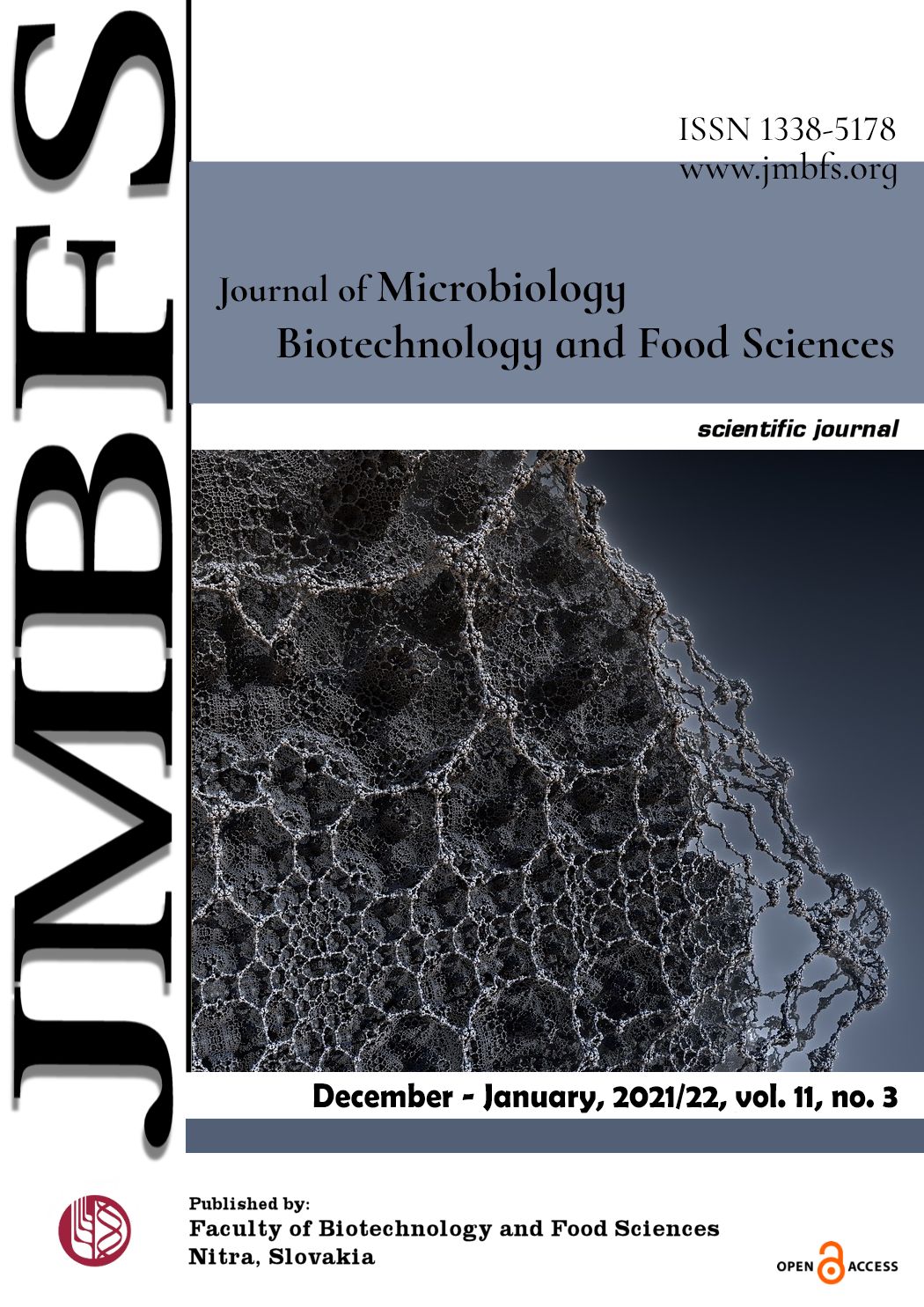 Downloads
How to Cite
Čech, M. ., Ivanišová, E., Hozlár, P. ., Tokár, M., Zagula, G. ., Gumul, D. ., Kačániová, M. ., Sterczyńska, M. ., & Haščík, P. . (2021). NUTRITIONAL COMPOSITION, BIOLOGICAL ACTIVITY AND TECHNOLOGICAL PROPERTIES OF NEW SLOVAKIAN BLACK OAT VARIETIES. Journal of Microbiology, Biotechnology and Food Sciences, 11(3), e4238. https://doi.org/10.15414/jmbfs.4238
License
Copyright (c) 2021 Matej Čech, Eva Ivanišová, Peter Hozlár, Marian Tokár, Grzegorz Zagula, Dorota Gumul, Miroslava Kačániová, Monika Sterczyńska, Peter Haščík
This work is licensed under a Creative Commons Attribution 4.0 International License.
All papers published in the Journal of Microbiology, Biotechnology and Food Sciences  are published under a CC-BY licence (CC-BY 4.0). Published materials can be shared (copy and redistribute the material in any medium or format) and adapted (remix, transform, and build upon the material for any purpose, even commercially) with specifying the author(s).