THE EFFECT OF HONEY VARIETY ON THE QUALITY OF HONEY POWDER
Keywords:
honey, spray drying, antioxidant activity, sugar composition, mineral composition
Abstract
The conversion of raw honey into powder can increase its usage in food industry but the health properties of obtained powder in relation to chemical composition of honey have been not studied since now. The aim of the study was to check the influence of botanical origin of honey on the quality of honey powder produced by spray drying method. Nine honey samples: honeydew (3), multifloral (3) and acacia (3) were transformed into honey powder using DC1500 dryer (Unimach, China). Analysis of honey powders and comparatively raw honeys covered: physicochemical parameters (moisture content, titratable acidity, pH, electrical conductivity, sugar profile (HPLC) and calorific value), bioactive compounds determination (antioxidant activity (DPPH and FRAP tests), phenolic compounds, mineral composition (ICP-OES) as well as microbiological purity and antibacterial activity. The experiments have shown that honeydew honey powder was characterized by the strongest antioxidant activity and the richest mineral composition, whereas the weakest properties for acacia honey were observed. Moreover, sugar profile of obtained powders was similar to raw honey. It was found that the quality of honey powder was directly dependent on the quality of raw honey.
Downloads
Download data is not yet available.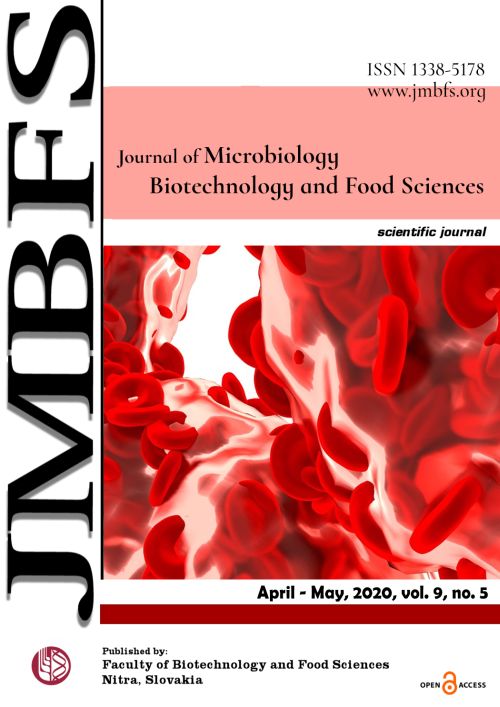 Downloads
How to Cite
Tomczyk, M. ., ZaguÅ'a, G. ., Tarapatskyy, M. ., Kačániová, M. ., & Dżugan, M. . (2021). THE EFFECT OF HONEY VARIETY ON THE QUALITY OF HONEY POWDER. Journal of Microbiology, Biotechnology and Food Sciences, 9(5), 949–954. https://doi.org/10.15414/jmbfs.2020.9.5.949-954
License
Copyright (c) 2020 Monika Tomczyk, Grzegorz Zaguła, Maria Tarapatskyy, Miroslava Kačániová, Małgorzata Dżugan
This work is licensed under a Creative Commons Attribution 4.0 International License.
All papers published in the Journal of Microbiology, Biotechnology and Food Sciences  are published under a CC-BY licence (CC-BY 4.0). Published materials can be shared (copy and redistribute the material in any medium or format) and adapted (remix, transform, and build upon the material for any purpose, even commercially) with specifying the author(s).