ANTIMICROBIAL AND ANTIRADICAL ACTIVITY OF SLOVAKIAN HONEYDEW HONEY SAMPLES
Keywords:
honey, polyphenolic mixture, antiradical activity, antimicrobial activity, pathogenic bacteria, Slovakia
Abstract
The aim of this study was to determine the antioxidant and antibacterial activities of polypehnolic mixtures isolated from nine Slovakian honey samples. Spectrophotometrically at 517 nm was measured DPPH scavenging activity of tested samples, while antibacterial activity was evaluated by using minimum inhibitory concentration (MIC) method against two Gram-positive strains (Listeria monocytogenes CCM 4699; Staphylococcus aureus CCM 3953) and three Gram-negative strains (Pseudomonas aeruginosa CCM 1960; Salmonella enterica CCM 4420; Escherichia coli CCM 3988). At the concentration of 500 g.mL-1 all tested samples of phenolic mixtures showed good DPPH antiradical activity. Among them, sample from location of Zilina showed the highest activity (90.75 % and 94.56 %, respectively), while the lowest activity was observed for sample of location Brezno (44.47 % and 51.33 %, respectively). Other mixtures (for assay after 30 min and 60 min) showed high to medium antiradical activities (from 45.89 % to 86.59 %). The MIC values of tested polyphenolic mixtures were in the range of 32 g.mL-1 to 512 g.mL-1. The highest activity of isolated extracts was observed in a case of S. aureus (32- 64 g.mL-1) and P. aeroginosa (64-128 g.mL-1).
Downloads
Download data is not yet available.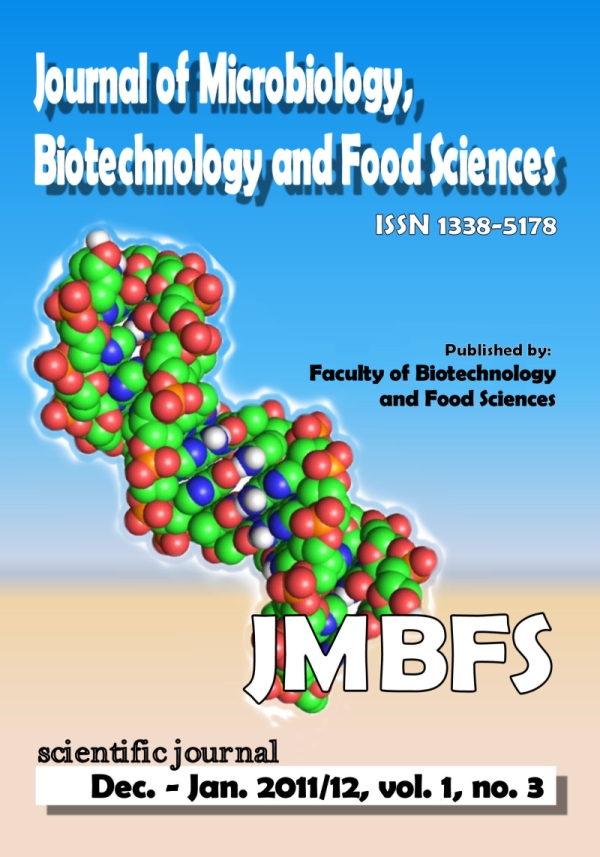 Downloads
How to Cite
Kačániová, M. ., Vukovic, N. ., Bobková, A. ., Fikselová, M. ., Rovná, K. ., Haščík, P. ., Čuboň, J. ., Hleba, L. ., & Bobko, M. . (2021). ANTIMICROBIAL AND ANTIRADICAL ACTIVITY OF SLOVAKIAN HONEYDEW HONEY SAMPLES. Journal of Microbiology, Biotechnology and Food Sciences, 1(3), 354–368. Retrieved from https://office2.jmbfs.org/index.php/JMBFS/article/view/4468
License
Copyright (c) 2021 Journal of microbiology, biotechnology and food sciences
This work is licensed under a Creative Commons Attribution-NoDerivatives 4.0 International License.
Received 2021-03-11
Online Published 2021-03-11