MICROBIOLOGICAL QUALITY OF CONFECTIONARY PRODUCTS
Keywords:
confectionary product, Kremeš, Venček, bacteria, microscopic fungi
Abstract
The aim of this work was to determine microbiological quality of confectionery products. In confectionery products microbiological parameters: total count of bacteria, coliforms bacteria,mesophilic aerobes bacteria and microscopic filamentous fungi were observed. The confectionery products were evaluated: KremeÅ¡ and VenÄekcake. For microbiological tests 20 samples of confectionery products were used. The numbers of total count of bacteria ranged from 3.29 log CFU.g-1, the number of mesophilic aerobes bacteria ranged from 1.86 to 2.85 log CFU.g-1, coliforms bacteria in confectionery products ranged from 0to 2.06CFU.g-1and the number of microscopic fungi ranged from 1.13 to 1.96CFU.g-1. The samples of cake prom private production showed better microbiological quality as samples from market production. All investigated samples of confectionary products were inaccordance with the Codex Alimentarius of the Slovak Republic.
Downloads
Download data is not yet available.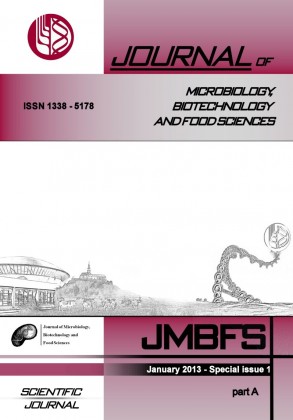 Downloads
How to Cite
Juhaniaková, Ľubomíra, Kačániová, M., Petrová, J., Kunová, S., Pavelková, A., & Bobková, A. (2013). MICROBIOLOGICAL QUALITY OF CONFECTIONARY PRODUCTS. Journal of Microbiology, Biotechnology and Food Sciences, 2(special issue 2), 1244–1251. Retrieved from https://office2.jmbfs.org/index.php/JMBFS/article/view/7446
License
Copyright (c) 2013 Ľubomíra Juhaniaková, Miroslava Kačániová, Jana Petrová, Simona Kunová, Adriana Pavelková, Alica Bobková
This work is licensed under a Creative Commons Attribution 4.0 International License.
All papers published in the Journal of Microbiology, Biotechnology and Food Sciences  are published under a CC-BY licence (CC-BY 4.0). Published materials can be shared (copy and redistribute the material in any medium or format) and adapted (remix, transform, and build upon the material for any purpose, even commercially) with specifying the author(s).